Hanno Zeeman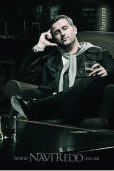 When not on stage, Hanno is working as a Customer Profitability Analyst with Absa Bank.in the Johannesburg CBD. He is also a part of the Management of Navi Redd, looking after the finances.He enjoys socializing with family and friends, and recently started playing rugby again. He also enjoys gardening with his wife Stefanie.


---
Hennie Meyer
The only Navi Redd member currently living in Pretoria, Hennie works as the Group Management Accountant at the Life Hospital Group.He is definitely one of the peoples favourites, and his warm bass voice is a crowd discussion point after each performance. He is married to lovely wife Valicia, and he has a daughter Mignon
---
Sparky (HP) Toerien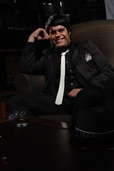 Sparky is very busy with his Catering ventures when he is not wowing crowds with his very unusual percussion gift and unmissable stage personality. Fans name their pets after him, children want to be him.


---
Schalk Baard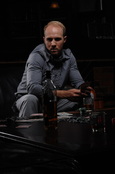 Schalk represents Earthmed (Surgical Supplier) in the East of Gauteng, and spends most of his day in the operating theatre when he is not singing. He also forms a part of the Management of Navi Redd. He loves playing Touch Rugby and spending time with his lovely wife Mandi.
---
Andre (Killer) van Wyk
Killer is currently the head of Marketing and Relations for the University of Johannesburg's Accounting Department. He also is in charge of all the logistical planning for Navi Redd Management. Killer loves road running, and in June this year , he will be running in his third Comrades marathon. The Ultimate Human Race.
---